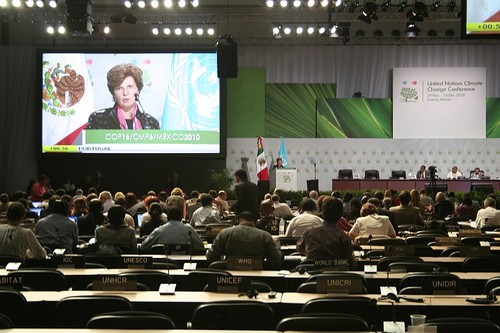 Discurso da Ministra do Ambiente e do Planeamento de Portugal, Dulce Pássaro, há pouco no plenátrio da COP16:
[Madam] President, Ministers, Colleagues,
Let me first associate myself with the statement of the European Union and its Member Sates
One year after Copenhagen, we meet again in Cancun at a critical junction of our negotiations. We, the Parties, have throughout the year engaged on substantive discussions and pursued efforts towards achieving a balanced and ambitious outcome in Cancun.
The European Union has called for a balanced package capturing progress on both the Convention track and the Kyoto Protocol track. Portugal believes that such outcome is within reach.
We believe that the United Nations framework remains THE forum for these discussions. It is the only process where ALL Parties are at the table.
We are firmly convinced that this process CAN deliver, if we all work together.
[Madam] President,
Portugal expects CoP 16 to be able to bridge our work between Copenhagen and Durban. For this purpose we would like to see the political guidance provided by the Copenhagen Accord incorporated in the UNFCCC.
We are happy to see that more than 80 Parties have submitted information on proposed mitigation targets and actions, and believe that this is a fundamental first step towards the ambitious goal of maintain the 2ºC objective within reach. But further efforts will be needed by all of us.
Portugal is on track to achieve its Kyoto target and is working towards our 2020 target to which we are bound by EU law in the context of the EU's 20% reduction target.
We have put in place a comprehensive set of national policies, including a a world-leading programme on renewables which will contribute to emission reductions and job creation.
Just last month we have formally launched a process to define a roadmap for low carbon development for Portugal with key milestones in 2020, 2030 and 2050.
On Fast start financing, Portugal is happy to report that we are delivering on our commitment of 36 million euros in the period 2010-2012. We have signed Memoranda of Understanding with partner countries Mozambique and Angola, we will be signing a further MoU with Timor Leste in this COP. These MoUs include a host of projects on mitigation and adaptation.
[Madam] President,
It is up to all of us to confirm here that we want to give a clear response to the challenge of climate change.
Cancun is not the final stop of this process. But Cancun CAN deliver a fundamental stepping stone for progressing in our endeavours towards an effective, fair and ambitious legally binding global response to climate change. After Copenhagen, this is a step we cannot afford NOT to take.
Portugal is committed to this process and we would like to pledge our full support to the Mexican Presidency of this Conference of the Parties in guiding Parties to a successful outcome here.